Visa application:
When you plan to visit Vietnam you should organise yourself a visa if you want to be in the country longer then 15 days (15 days are on arrival but please always check your countries visa requirements)
You can go to the next vietnamese embassy, pay a bit more and get your visa in a few days but I think that the best, easiest and cheapest way is, to do it online.my friend and I used cheapvietnamvisa.net and got a responds the same day (please also always check online reviews before you start your application). I can definitely recommend this website, the responds was quick, the payment was easy and the visa letter was sent to us in less then 24hours after payment. You can also find all necessary informations for country requirements, prices, and other helpful links on this website.
We decided to get a 3 month single entry visa what cost us 14$ USD/pp for the letter and 25$ USD/pp for the stamp at customs in Vietnam. We first send our details in an online form to cheapvietnamvisa.net and got an email confirmation sent by Nancy Le (we saw her name before in the reviews) including all our details and the option to pay by PayPal or to sent an invoice if payed by credit card. We made the payment via PayPal and confirmed our details by responding to Nancy Le's email. In less then 10 min we got another email that our payment was received and Nancy Le would apply for our visa now, we would get our visa letter (that we had to print and take with us to Vietnam) as soon she had it. In less then 24hours she sent us the email with the document.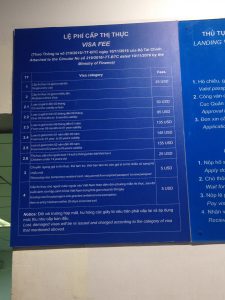 At the airport in HCMC:
The airport in HCMC is not to big so you will easily find your way to the visa on arrival counter next to  customs. The line at the counter was not to long but the people who already waited were a few.
Before you stand in line please fill out the 2sided Form what contain all your details again and your first address you will stay.
With this form, the visa confirmation letter, your passport and 1 passphoto (Vietnam size 4cmx6cm) you can go to the counter
Give them all the above and keep your fingers crossed it will not take to long
Wait till your name gets called (we read that it normally takes around 15 min but we waited around 45min)
Please keep in mind that a Vietnamese local will call your name, so listen carefully, they try to do their best to say it correctly but this could be a funny version of your name
Pick up your passport with the Vietnam visa stamp and pay the amount that equals your visa. (For us 25$/pp)
Go to customs
Because we saw that the lines for foreign passports were quiet long, we sneakily used the first we saw (crew members 😀 lol yep totally us bahahaha), they can't say anything more then no…..they didn't.
Welcome to Vietnam 🙂
(These informations are based on a German passport holder)