Trip to Ella: To get from Weligama to Unawatuna, we took the Tuk Tuk to Mataram and from there the bus to Ella. The bus was 240 LKR p.p. (price Aug. 2016)

The drive to Ella was already beautiful even the bus was absolutely full and when i say full, I mean full. People were standing in the bus and got even more squeezed in, every time we stopped and new people got on the bus. You have no idea how many people fit in a bus, when you haven't experienced traveling here, it's still fun but exhausting. All in all it was a great and fun trip, you just have to be quick if the bus stops for a pit stop and you have to go to the toilet. They don't wait for just one person, you better be there. Well its not that bad but nobody counts how many people leave and come back. For us it was easy because when you travel in a group of five, there is always one that can tell the bus driver to wait for another minute or two.
We had not booked any accommodation in Ella yet and didn't know where to go. No worries at all, directly at the bus stop there are a few locals waiting for just this purpose and offering you accommodation. A lovely lady approached us when we stepped out of the bus and offered us accommodation for 5 with a super good price (accommodation for 5 for 2 nights 7000 LKR). Her place was not far away and when we agreed, she organized a tuk tuk for free to get our luggage up a steep hill to her house. It was just a short walk away for us but that steep, that even the tuk tuk driver was not really keen on driving up there. Anyway, our host was not only lovely but also a master in cross selling and doing business. As it turned out, she had only 4 beds left and would include an extra mattress. Hahaha we all grinned at her because she clearly said she had 5 beds and pretended now she said 4 beds. But the price made it a good reason to stay anyway because no one wanted to walk down with the luggage and search again after the bus ride. Talking about cross selling she had a little corner shop at the main road selling food and on top renting scooters. She offered us some cold drinks (again cross selling at its finest) and gave us a A4 self drawn  map from Ella with all important things to do.
1. LITTLE ADAMS PEAK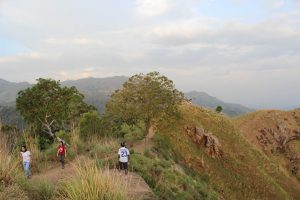 Our first destination that same day was Little Adams Peak. It's easy reachable by foot so we didn't need a scooter that day and it gave the guys time to check prices of other scooter rentals (always a good idea). In little towns the prices are often fixed and all have the same price, no big chance on negotiating. So the offer from our lovely host would be ok for the next day.
>>Sri Lanka – Hiking up little Adams Peak<<
The only thing that is really sad to see are the amounts of stray dogs and cats that walk around. In Sri Lanka are so many, its not funny :(, most of them with a strong skin disease. It breaks my heart and  the only thing you can do, is to buy some dog food or share some of yours because there are not really a lot of vets around.
The short cut to the city center from our place was just down lots and lots of stairs, and at the bottom was a lovely little restaurant where we had breakfast. Even you have to wait for a longer time the breakfast is nice and affordable and not as overpriced as in all the touristy restaurants directly opposite. It was called >>Jade Green Tea Center and Restaurant<<.
2. UVA HALPEWATTE TEA FACTORY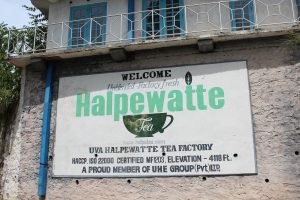 We rented 3 Scooters and did a tour around Ella (Rent for 3 Scooters 3000 LKR).  All the hills around Ella are filled with tea plantations, massive fields of just green wherever you look, jungle and palm trees. We passed so many tea plantations, the train station and drove along windy roads that I felt so uplifted and happy in this place. The air is fresh and the sun was shining. You can take amazing photos of the scenery and people working on the plantations, so it was time for us to find out a bit more about the tea and it's history.  We drove to the >>UVA Halpewatte Tea Factory<< and joined the tour (Entrance fee for the Tea Factory: 300 LKR).
>Sri Lanka – UVA Halpewatte Tea Factory<<
3. NINE ARCH BRIDGE
Our next stop was the 9 Arch Bridge. Lets just say we waited for that train to come but it didn't and then it started raining. We had the best time 🙂
>>Sri Lanka – The Nine Arch Bridge<<
On the way back to the city we stopped and bought tickets for the well known and famous train ride between Ella and Kandy. Most travelers do this train ride the other way from Kandy to Ella, that's why the train is often booked out days sometimes weeks in advance (at least the good seats). We didn't know it then, but we where lucky to get our ticket a day before departure without a problem.
Back in the city Sandra and Milou decided to have a quiet evening and Chris, Hakan and me… well, we went exploring. It was my first time back on a scooter since I was 17 or so … way to long because I totally forgot how much fun it is. But believe me the others had a laugh and I was thankful that the streets in Ella are not at all busy.
With a short introduction from Hakan, I drove off and the guys followed but only after Sandra told them "I don't think she will stop and turn around" lol I didn't.
Comforting me to drive in my own pace and just to take it easy, we started the afternoon tour. OMG I had a great f…… great time.
4. DHOWA ROCK TEMPLE
First stop was the Dhowa Rock Temple, it dates back over 2000 years and is famous for its large Buddha statue carved into the rock face.
>>Sri Lanka – Dhowa Rock Temple<<
5. HILLTOP PAGODA
Our next stop was a Temple on a hill that Chris found online. Unfortunately I can't remember the name but it was a fun way up this windy road. At the end of all these serpentine's we had the best few from the top of the mountain next to a unfinished new temple and I was super comfortable driving my scooter. Win win 🙂
>>Sri Lanka – Hilltop Pagoda<<
Ella & driving around Ella:
Sri Lanka – Train ride from Ella to Kandy