Day 1-5 HCMC –
Ho Chi Minh is a pulsating city in the south of Vietnam and the place we started our road trip. We arrived a week later as we actually wanted but being finally there was overwhelming and interesting at the same time. I never thought that Vietnamese traffic had any kind of system, it just looked crazy to me in the beginning…. but watching it and seeing that everyone pays attention, drives slowly, respects the other driver, seams very relaxed and they all don´t seam to be bothered if they arrive 5 min early or 5 min later, made me see this crazy traffic with different eyes. It has a system and it totally makes sense if you can put our European thinking of "follow the rules" or "I have to be first" business, aside and you´ll be fine. Here everyone drives wherever they wanna go but give you the right to go first and so should you too. That in mind driving here is really easy, you just go with the flow and keep rolling. The only thing you should not do is – don´t stop -that's the only thing that confuses the drivers. Same if you cross the street, just keep walking in a slow pace and everyone will drive around you.
In the 5 days we stayed n HCMC we arranged our scooters, met some wonderful people, visited the Cu Chi Tunnels, made a day trip to the Mekong Delta and explored the city.
If you arrive in Vietnam and made your visa online, this is how it works at the airport
>>Vietnam – Airport, Visa on arrival<<
The next step was to check into our hostel and organize Scooters. There are a few options to buy scooters in Vietnam
Use travelers sites on Facebook to find the perfect fit
use a local shop and check the bikes
do research online and go with the best reviews
We decided to go with a local shop because if you spent only 200-300$USD on a bike, then you have to make sure in any case that it works properly before you buy. This price is to low to get you the piece of mind on top of a cheap price, that this bike will carry you all the way without a problem. But the good thing in Vietnam is, there are mechanics at every corner and for a few dollars you get pretty much everything fixed, so no worries at all. If you don´t have the time to spent a few days more to find mechanics and fix stuff, you better invest a little bit more money to get a newer bike (No guarantee it is better). The local shop we bought it from also offered to fix everything we were not happy with. We had the time to test drive them and go back to made some adjustments. It is handy if you don´t have to pay for it, so make sure you take your time.
For a checklist please check out the blog post here:
>>Vietnam – Buying a motorbike<<
If you need piece of mind then I can recommend you Tigit Motorbike, they have perfect reviews and the owner is a guy from the UK who even gives you tips and hints when you not buy from him. His bikes are semi automatic or manual and start at about 650USD but you can be sure that this is a no brainer. Unfortunately it was not in our price range.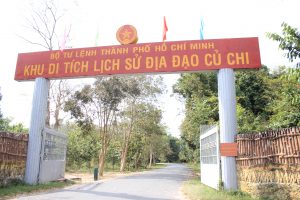 The next day we decided to go and test drive our new bikes and drive up to the Cu Chi Tunnels. We had to check out of our hostel but decided to leave our bags there to not waist time between checking out and checking in the new Hostel. On the way we shortly went to our scooter guys and also bought a lock for the bikes.
The drive itself was not to bad but heaps of traffic that way and I covered my face with my scarf, I definitely need one of these face masks the Vietnamese have, thats for sure. It took us around 2 hours for the 45km to the tunnels, well that says it all about the traffic.
Read more about the Cu Chi Tunnels:
>>Vietnam – Cu Chi Tunnels<<
Our next hostel was in the middle of district 1, called Vietnam Inn Saigon and had a rooftop area, free breakfast, parking spots for our scooters and 2 free beer and pubcrawl every night for 160000 dong/pp. Also they organised tours so we booked a one day trip for the next day to the Mekong delta.
Read more about the Mekong Delta:
>>Vietnam – Mekong Delta Tour<<
After getting back from our tour we went back to our hostel, had a short shower and met again at the night markets for food with Lisa and Star, two lovely girls we met on the tour. They are both from NYC and just two wonderful souls and so much fun to be around. We had some delicious food from the market played a game with a "shuttlecock" (no jokes) in the park.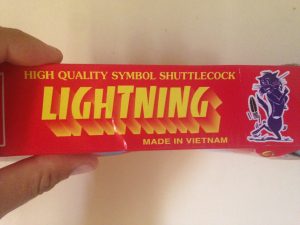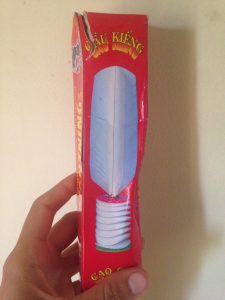 We walked around for a bit and also had some drinks in the city before we went back to hostels. We went on a city tour the next day to see the Markets, the war museum and the famous central post office.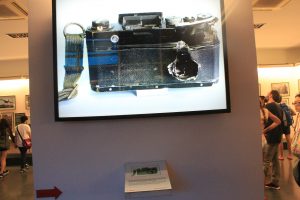 Read more about the War Museum, Central Post Office and the City Tour
>>Vietnam – HCMC City Tour<<
A few images from HCMC