Duration: 1 week
Arrival: Singapore Airport
Departure: Bus to Kuala Lumpur
Singapore is a city with hundreds of faces. I fell in love with this city on the first day. There are so many things to do and so much to explore that I can only recommend you to go and see for yourself.  Some people say Singapore is super expensive and there is not much to do without spending a fortune and it would not be worth staying longer then 3 days? I can agree that it can be expensive if you do it wrong but there is a shit load to do and see that you can do for free. With the help of my two dear friends Arni and Rahul, I filled up a whole week and there was still more that we could have done. Have a look on my list and how I discovered the beauty of this city.
1. The Slide T3 @ Singapore Airport (only for the brave)
This is Singapore's tallest slide and only for the brave. Why? Because you will stand in line with 4year old's and every single one of them will look at you like you stole there spot (hey, suck it up little diaper poopers). For every $10 spent at Changi Airport in a single same day receipt*, visitors can redeem one ride at the Terminal 3 Level 1 Information Counter. My friend Rahul talked me into this because he had to buy something at the store anyway ( hahaha I think he did it in purpose), so here starts the fun! I'll never grow up.
2. Clark Quay and Singapore River Walk (Free)
Walking around Clark quay is a great way to see a part of this city. His area is more the expat and tourist place to be, a bit more expensive, with good restaurants and bars but at the end of the day, it had a "same same but different" kinda feeling for me. Meaning, you can find this in every big city. Clark quay is also the place a lot of people go to party.
3. See the Cavenagh Bridge
Along the singapore river walk you can find the Cavenagh Bridge, its the oldest Singapore bridge, open since 1869. It was one of the first suspension Bridges in the region.
4. Walk around Marina Bay, before, at and after sunset. (Free)
This is definitely a must do in Singapore because it is really stunning and has some great highlights you shouldn't miss out on. Of course the view of the marina bay sands, the white Singapore lion and a floating soccer field are a highlight but walking around the bay is a great way to see this area in all kinds of lights and perspectives.
5. Visit Louis Vuitton's swimming Palace at the Bayfront. (Free)
It's a little bit out of the normal backpacker tour but you don't have to pay entrance and you don't have to buy anything. The staff is used to lots of visitors and super friendly, so go in and have a look.
I saw the most expensive hammock I have ever came across, 60000$! Hard to understand that a few people put their ass on something so expensive I could finance years and years of travelling from. The world is a funny palace.
6. Marina bay sands sky bar (Cover charge incl. 1 free drink)
From here you can get a look at their famous sky high infinity pool and a stunning view of the city including the supertree grove park with the flower- and cloud dome, without paying entrance for the observation deck. Unfortunately it's only possible to swim in the pool if you are a hotel guest. I visited Singapore in the week of Formula 1, so 750$ Singapore dollar was the cheapest room…. clearly not in my budged. You maybe have to pay cover charge for the bar (depends on the weekday) but you get 1 drink free. (Best not to wear flip flops ;))
7. Gardens by the bay (Free) (Flower & or Cloud dome) (28$ Adult, 15$ Child) supertree skywalk (8$)
Gardens by the bay with their massive super tree's is open for public since 2011 and earned numerous awards in the last few years. The outdoor gardens are free and include the Supertree Grove, Sun Pavilion, Heritage Gardens, World of Plants and the Dragonfly & Kingfisher Lakes. A good tip is to see one of the two Super Tree light and sound shows from the super tree sky walk at 7.45pm or 8.45pm. Just make sure you be there early enough because the skywalk closes doors to get up 15 min before the last show starts.
Check the website here.
8. 1-Altitude bar (entrance fee)
One of the highest rooftop bars in the world is definitely a must see if you visit Singapore. The view from up here is just incredible.
9. One raffles place (entrance price depends on the night, we had ladies night inclusive free drinks)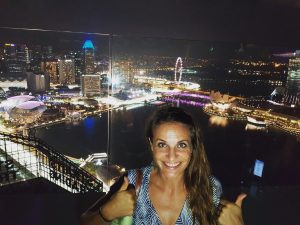 It depends on the weekday if you get in for free or not. So better check out their website for information. From here you also have an amazing view, not as high as 1-altitude but still great because of the big massive Glasfront windows.
10. Buddha Tooth Relic Museum (free and must see)
This Temple is a place to breath and enjoy. I was in Sri Lanka to see the Tooth Relic Temple and it is a money making business over there. The Singapore temple is a 5 floor enjoyment with an orchid garden on the top floor and also the biggest wish wheel in the world.
11. Thian Hock Keng Temple (free)
It is the oldest Chinese temple in Singapore and unfortunately I arrived twice when it was already closed because I was to busy doing other things and 5pm is just not the right time to visit this temple. So be sure to be there before 5pm ;).
12. China town (free till you start buying cheap souvenirs)
China Town in Singapore is pretty much the placewhere you can get every Souvenir and cheap shit from china that you can imagine
13. China Square Food Court (its ok)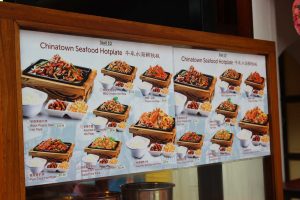 This food court is small and maybe not the best but you can get some food to go if you're craving a snack. And there is never anything wrong with sushi 🙂
14. Maxwell Road Food Center (cheap and good food)
If you don't want to spent your money on fancy restaurants, this is the place to go. Great local food for small budget. There is also markets where I had my first taste of durian. Not sure what I should think of it. For me it tasted like 2 days old cold fries from a fast food chain… but I was told if you have good durian you'll love it. Well let's see if I find the good one soon.
15. Little India (cheap and good food)
Here counts the same as for Maxwell food court, great food in another corner of town. 4$ to get a full packed plate but if you can't handle the Indian spices you better tell them beforehand otherwise you are in for some hot fun. Also you can get all sorts of fruits including Durian. Try it and let me know what you think. I didn't mind the smell but for me it tasted like 2 days old cold mushed fastfood fries.
16. Haji lane (free as long you don't buy anything) (selfie coffee, coffee around 10$)
Haji Lane is very known in Singapore for its great artwork and the amount of creative shops, you can get everything from clothes to souvenirs. If you are not keen on buying anything maybe try the selfie coffee shop. You can print your picture on an iced coffee with cream.
17. Streetart in the Tiong Bahru Market area (free)
The streets around this area are full of street art, it's fun walking around and you'll have some great pic's from your time in Singapore
18. Yong siak street (Plain Vanilla Bakery swing) (free)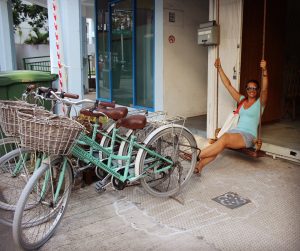 Just because I love swings, right around the corner of the streetart is a lovely little bakery with a swing
19. Ann Siang Road (party)
This street is known as the party area, the street gets closed for cars on the weekend to make it easier for people to walk around. Here you find some nightlife.
20. Screening room on Ann siang road
When you walk in you just see a staircase covered in all sorts of film material and movie pictures, leading to a nice rooftop bar.
21. Singapore botanic gardens (free)
This place is massive and beautiful, if you have a spare day or even two, go have a look, it's well worth it. You'll see some cool things around here, including palm tree leaves as big as family tents. I felt like a midget.
Opening hours 5 am to 12 midnight daily
Singapore Botanic Gardens website
22. National Orchid Garden ($5)
My lovely Friend Elsa from Brisbane was to the same time in town then me and we decided to catch up in the National Orchid Garden. I was impressed by the amount of orchids and the size of the orchid garden alone, being only one part of the Botanical Gardens, we walked around for nearly two hours. Never seen anything like it, the garden has so many different kinds of orchids that you can't even cope with all the beauty in this place. It should definitely be on your list of things to do. Opening hours 8.30 am to 7 pm daily (last entry at 6pm)
Singapore Botanic Gardens website
23. River valley road, Spize restaurant (Good quality food to a reasonable price, open till early morning hours)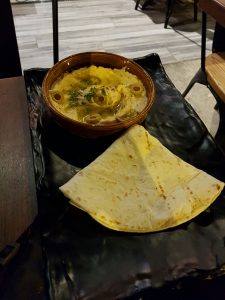 This is one you should not miss if you are happen to be in the area or get a craving for food late at night. People come here to eat in the middle of the night or after a night out. The food is very good and affordable, the service is fast and on top they have by far the best hummus in the city. Loved this place. Order the hummus, its the best in the city
24. Sentosa island (uber ride, walking around is free but food is expensive)
The Singapore short distance Holiday is just a few km away and is not everyone's cup of tea but it will do the job if you need a day in the sun. Unfortunately the food here is super expensive.
25. Skyline Luge (25$ for 3 rides)
The skyline Luge is a … trak for kids and grown ups. It's not the cheapest but lots of fun.
Skyline Luge website